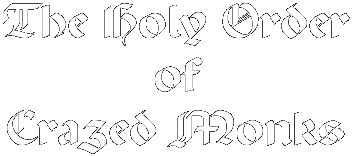 ---
Sometimes a thing can only be defined in terms of those things of which it is not.
For example, we are not The Oily Hoarder of Caged Skunks.
Nor are we The Wily Herder of Wooly Mammoths.
We also have nothing to do with The Moldy Larder of Shaved Hunks
or The Roly-poly Crawler over Dazed Punks.
On the other hand, we are the second home to The Old, Elderly, and Ancient Peruvian Water-climbing Moose-tailed Muskrat whose holy word was revealed to Keptrsg thru the automatic writing of Strbrgtx during protracted verbal exchanges with a pack of looneys:
Bardiglebantanicalfarguilly!
Fortunately, that does not apply here and we can both firmly assert and certainly affirm that we are
A question without an answer
A bad hair day
Music without sound
The stone left unturned
The sound of one hand clapping
Playing with fire
A forest without the trees
A toilet without a seat
What goes around
A glass half empty
The darkness without a dawn
The least common denomination
Stark raving mad
The tunnel at the end of the light
The day you wake up and it all makes senselessness
Fear itself
A storm in the lull
...
and last but not least
Metaphorically Obtuse.